Money Belt
Georgia Kerby, Curator Exhibitions
Belts are a seemingly simple invention that come with an amazing variety of materials and attachments. Military belts tend to be quite recognisable as they came in a small range of heavy duty fabrics like cotton webbing and leather with metal attachments. Pockets and hooks were designed for carrying money, watches, and weapons.
Today's item was donated by J. Paterson and is likely to have been a WWI military belt, but was used well after the war, due to its functionality and good condition. A comfortably wide, woollen webbing strap makes up the body of the belt which was fastened with two leather and buckle closures. It can be expanded via a long metal slide buckle. Three small pockets in the wool were for holding small amounts of money, covered by a leather flap and secured by small metal pop fastenings. Embossing on the leather flaps read "Natural Wool".
These features enable us to determine the belt was a WWI era money belt for wearing under your tunic. The term 'money belt' originated with leather 'stable belts' worn by British cavalry infantries. The wide belt was more practical to wear while working in the stables or marching long distances compared to non-elasticated braces. The practicality of this design meant 'stable belts' spread to all areas of the military and were adapted to various units. Most British WWI belts were standard issued in khaki green although some came in regimental colours. Coloured belts were more commonly used in WWII. Most army issue belts were made from leather or canvas webbing rather than wool.
Money or stable belts very similar to this were used in WWII, although often with the additional security of zip closures. Some people turned these belts into souvenir belts by studding them with military badges and buttons collected from friends and their own activities, turning the belt into a personal souvenir of service.
Unfortunately we don't know much about the origins or ownership of the belt but it travelled with its owner to New Zealand aboard the S.S. Ionic in 1926. They may have been an ex-serviceman now travelling in the grand era of the glamour ships, when cross-ocean travel still occurred across oceans.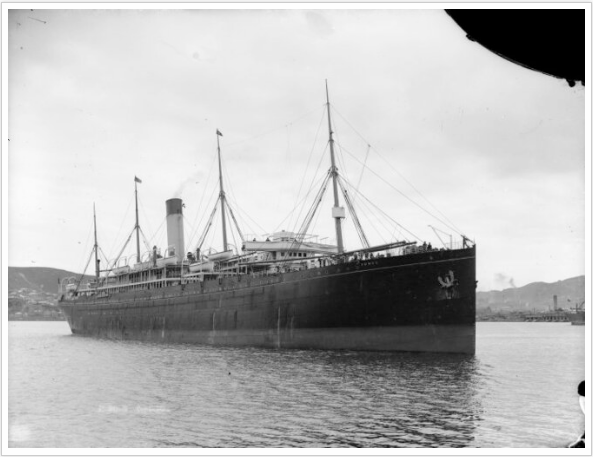 The S.S. Ionic was operated from 1902 to 1936, built in Belfast by Harland and Wolff for White Star shipping line. Used for passengers and frozen meat shipments, the Ionic travelled between the United Kingdom and New Zealand, stopping in Cape Town. The passenger steam ship was quite modern for her time, kitted out with the first wireless radio and electric lighting.
During WWI New Zealand troops travelled on the Ionic to various stations, but she was returned to a relaxed time of tourism and passenger service following the war. This money belt was worn by a passenger on board the S. S. Ionic leaving on 26th March 1926, what was supposedly the ship's 55th voyage to New Zealand. At this time, the Ionic was one amongst several large shipping fleets which facilitated the migration of thousands of people between the UK, Australia, and New Zealand.
Amongst the maximum of 658 guests our passenger could have emerged from their little cabin to eat in style in ornate dining saloons, dance to live music in the evenings, or play tennis on the upper sports deck. Travellers on board were divided into three classes, with the third class mostly consisting of emigrants and second and first being tourists and business people.
Three years after this voyage, the Ionic was retrofitted to only carry cabin and 3rd class passengers, and soon was sold to British Shaw, Savill & Albion Company. She was eventually retired due to her aging condition. We can only presume across this time the owner of our money belt settled happily in New Zealand and at some point found themselves in Whangarei.