Children's Chairs
Alison Sofield, Collections Volunteer
Researching furniture for children threw up many interesting facts. The earliest record of furniture specifically designed for children came from Ancient Egypt, where a smaller version of an adult bed was first made. This was not a crib as we would imagine it. In Ancient Greece there is a recorded example of an early form of high chair. The Vikings also had a type of high chair, examples of these have been found in tombs.
Towards the end of the 19th century some records of children's chairs and baby cribs can be found, designed by Michael Thonet, a pioneer in bending wood. It wasn't until the early 20th century that furniture designers began to turn their attention to designing and creating furniture just for children.
In the second quarter of the 20th century, scientific theories with regard to education of young minds, expounded by Maria Montessori, encouraged the spread of more appropriate children's furniture. Maria in her book 'The Discovery of the Child' saw the need to design child sized and shaped furniture that wasn't just an adult style made smaller.
Society began to gradually change its attitude to how children and their needs could be met. Safety regulations were introduced in the 1930s, with the aim of reducing the high mortality rate of infants. Bassinets and cribs became more common. Children had mainly slept in the beds of the parent and cases of suffocation or falls were a cause for concern. High chairs for feeding began to evolve, later models in the 1960s became more complex and parts of the chair could be converted into a low chair. Children's chairs in particular became a status symbol for wealthier households and there were many elaborate versions. Whangārei Museum at Kiwi North holds a pair of tiny balloon backed chairs with intricately carved backs and red velvet seats, a topic for another time.
Today we look at two children's chairs of more humble origin. The first is a high chair made from wood with a curved back with spindles. A foot bar to rest the feet on but no obvious restraints to prevent the child falling out. It is probably from late 19th or early 20th century. This chair was donated to the Museum by Miss C. Lupton.
The second is a chair with an angled back made in rattan. Rattan is the product of a palm that grows in tropical regions of Africa, Asia and Australia. The outer bark is stripped away leaving a pliable material still used today in furniture making. This chair came to New Zealand with M. Butler from Brisbane in 1957 and was donated to the Museum by S. Shepherd. It is thought to have been made at a Blind Institute in the 1920s.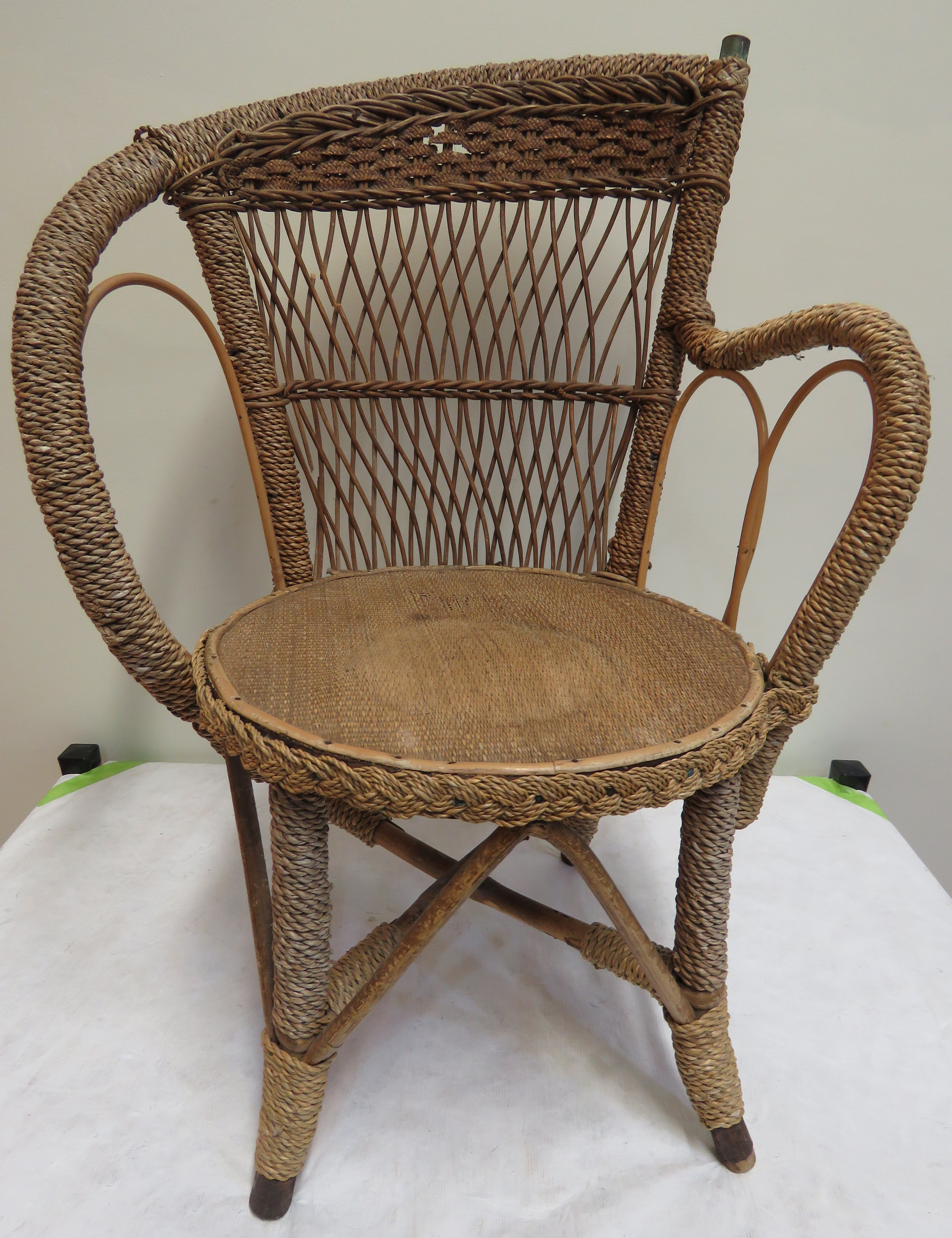 Neither of these chairs appear particularly comfortable for small bottoms and it would seem they hark back to the period where chairs for children were just a smaller version of adult chairs. It is good to now see chairs with shaped seats and backs, and in bright colours, in use in many early learning institutions throughout New Zealand.